Sebuah game yang bergenre fighting merupakan salah satu yang paling banyak di gemari oleh para gamers. kita yakin bahwa setiap gamers pasti pernah memainkan game dengan genre ini. dan pada kesempatan ini saya ingin memberikan informasi yang menarik bagi kalian yang tahu tentang game ini. jadi, apakah kalian sudah pernah mendengar game INJUSTICE 2 ?
A game that fighting genre is one of the most loved by the gamers. we are sure that every gamers must have played the game with this genre. and on this occasion I want to provide interesting information for those of you who know about this game. so, have you ever heard the game INJUSTICE 2?
Injustice 2 – The Battle Of Superheroes adalah pertarungan antara heroes , game ini berhasil mempertarungkan sejumlah superhero dan supervillain keluaran DC Comics dengan sukses!! beberapa diantaranya seperti superman, batman, joker, red hood, the flash dan superhero lainnya.
Injustice 2 – The Battle Of Superheroes is a battle between heroes, this game managed to fight a number of superheroes and supervillain DC Comics output with success !! some of them like superman, batman, joker, red hood, the flash and other superhero.
Dalam penilaian saya yang menarik dari game ini adalah special move yang di miliki setiap karakter sangat hebat dan keren. aku kagum melihat aksi superhero dalam menghajar lawannya. ini dapat kalian lihat pada video di bawah ini !!
In my interesting judgment of this game is a special move that has every character is very cool and cool. I was amazed to see the action of the superhero in punishing his opponent. this you can see in the video below !!
Dan, Yang menarik, kalian dapat memadu-padankan beragam costume pieces yang digunakan (tangan, kaki, pelindung dada, senjata dan lain sebagainya) sehingga kita bisa "membentuk" jagoanmu sesuai keinginan. bagaimana menurut kalian ? apakah kalian tertarik untuk memainkan game ini ?
And, Interestingly, you can mix and match the various costume pieces used (hands, feet, chest protectors, weapons, etc.) so that we can "form" your hero as you wish. What do you think ? are you interested to play this game?
My Favorit Character ( RED HOOD )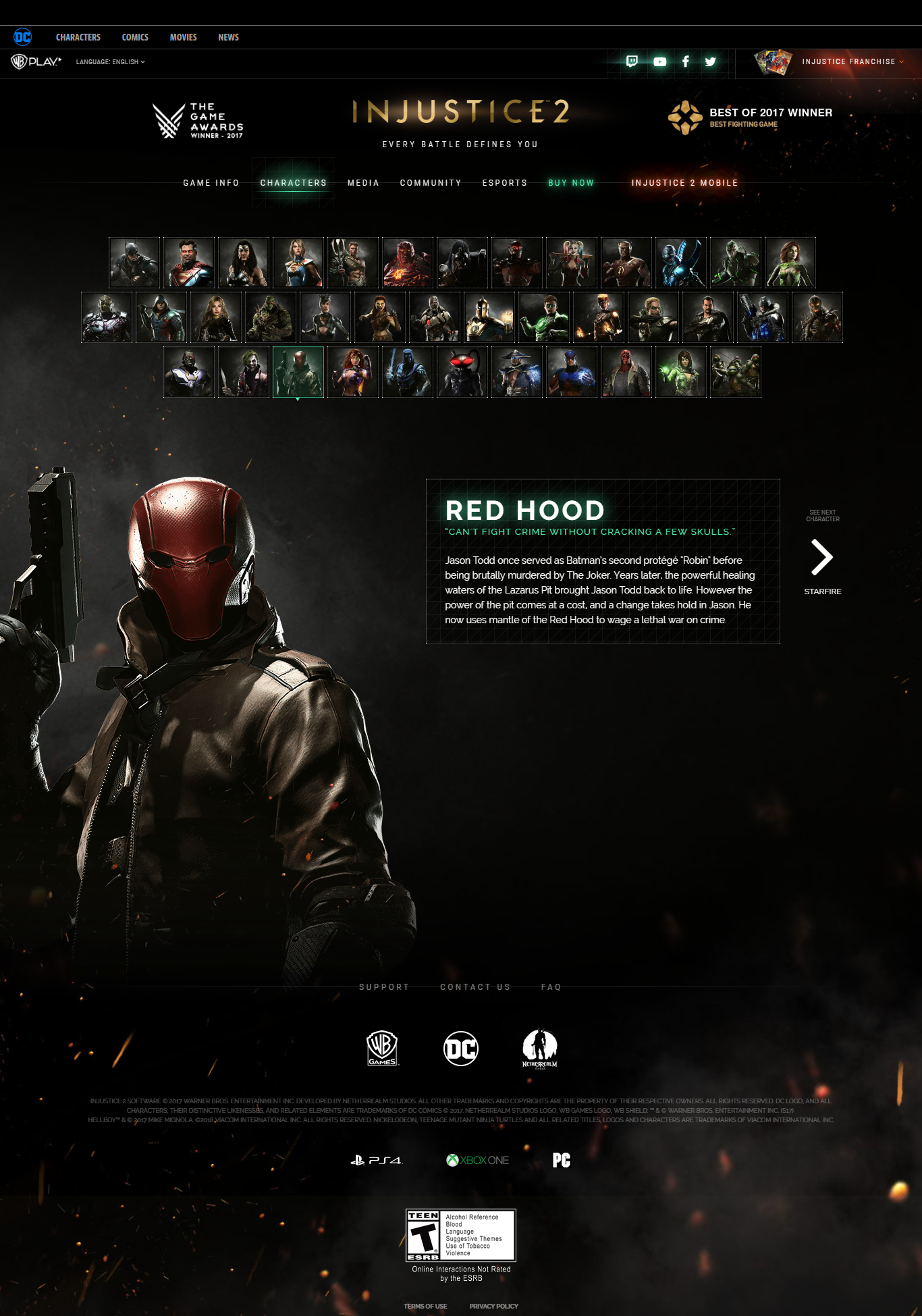 Noted: All Information and image is from official website
Website : https://www.injustice.com