Sevenfingers has already created project information on the fundition platform. there I provide complete information about the vision and mission of sevenfingers and also after that I and SF team create a special account to accommodate all donations gained from the help of all backer. @fingers.donation is the account for the storage of donation funds.
15 days ago team sf has made an update to the list of donations that go on @fingers.donation account and one of them from @jerrybanfield through the help of fundition. all donations will be in use for the needs of sevenfingers community development and currently sevenfingers have used 80 STEEM to rent 2300 Steem Power from @neoxian.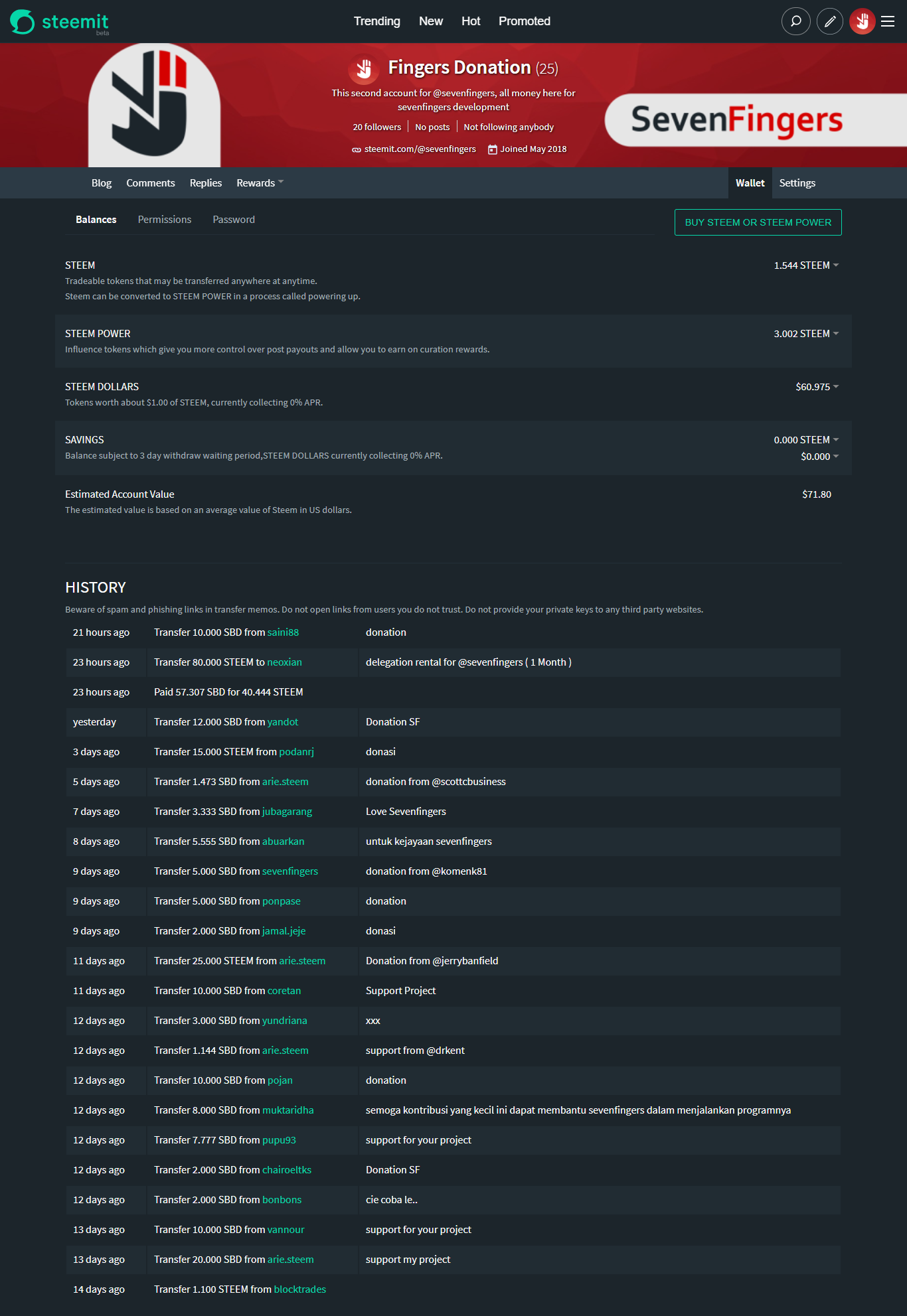 With the help of @fundition, sevenfingers now can work with more leverage and help with the great program and collaboration system created by the fundition. and currently our project can not be said successful because it has not reached the target. below you can see the current donation amount is $155.67 and not yet reached $1000 and also the number of backers for the sevenfingers project there are 150. with this update it is expected sevenfingers can continue to get support.
For those of you who like the sevenfingers project you can go to this link for donation https://fundition.io/#!/@arie.steem/s62vuqkdj or you can also sent your donation to this account @fingers.donation. Your help is very beneficial for the sevenfingers community. and this donation will be used as described in the above link ie for some points like
Rent SP for sevenfingers every month from donation money
As a reward for every sevenfingers contest
Development our website https://www.sevenfingers.io
Donations for charity event
Calling Sponsors and Donators For SevenFingers Community Project
Currently we have also run a new program that is making Bulletin from the content that has been created by sevenfingers creators. and we have released 2 weekly bulletins for great content produced by sevenfingers teams. it aims to educate authors and readers in order to create great content in steemit.
This is an update of the project results that we enter through the fundition platform. hopefully the fundition continues to succeed and also sevenfingers can get better and create more great things. thanks for the donator and backer.